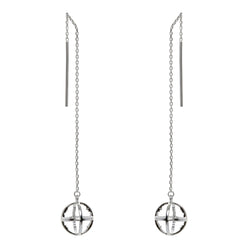 Kim Minchin Jewellery
Baby Cage Threader Earrings
Made from 925 sterling silver. Our threader earrings are perfect for any occasion.
Change the length to suit your style and outfit or thread them through multiple holes for a more edgy look.
Our threader earrings come complete with clear backers to hold your earrings in place.
Please note the earrings and the backs are very delicate and must be handled with care.
Length: 9.5cm with 2cm bar.
Pendant; 1cm